Kevin Burt - Owner/Cat Sitter
I have had cats and dogs all my life.  I grew up in Tullahoma, went to college at UT, and have lived in Nashville since 2002.
I have 3 cats. All rescues.  I have a cat client who lives behind Ellington Park.  She loves cats and would leave food out for a feral cat.  The cat started to come by every night.  Spring came and she had a couple of kittens.  After they were weaned she brought them with her.  They were truly feral, but I adopted them anyway.  It took a while and lots of patients, but they adapted.  They are 4 years old now and couldn't be happier!
I recently adopted a semi-feral kitten from the Cat Shoppe.  He was nine months old.  His parents were probably domesticated cats.  He had been hanging out around the restaurants in Hillsboro Village until he was brought to the Cat Shoppe.  I instantly fell for him.  He was very shy and not very trusting at first, but he quickly warmed up to us.  His name is Belcourt and doing great
Barbi - Team Leader
Mark Twain once said, "When a man loves cats, I am his friend and comrade, without further introduction." I feel the same way! Being a cat owner and a lover of all things music and feline, I will be so happy to meet another cat owner like you and give your cat all the love it needs while you are away. I'm a singer, instrumentalist, and artist who has always had a cat in my family since I was a baby and now I have a beautiful rescue cat of my own who is loved on 24/7 by me! I have a lifetime of experience intuitively reading what cats need, as well as specific experience with longhair breeds like Maine Coons, Persians, and Ragdolls, as well as special needs kitties, and I will treat your baby as well as my own when I come to visit!
I believe a great cat sitter has to, first and foremost, not just love cats, but understand them, speak their language, observe their protocols, respect their territory and space, and interact with them as much as they want to. To have the trust of another cat owner is a huge responsibility - I wouldn't just trust my own cat with anyone, so I would do everything I could to cultivate that owner's (and cat's) trust and then be honored to receive it. I'd want the same for anyone looking after my baby!
Emily - Cat Sitter
I have always loved being around animals. Growing up, I was always surrounded by my family's dogs, cats, turtles, and hamsters. It was only a matter of a time before I was recruited to be the familial pet sitter. Before long, I was sitting for all of the neighborhood pets as well! Needless to say, I have years of experience caring for pets, cats included, of course. I have a special love for cats because of their unique personalities and needs, which may often go overlooked. The fuzzballs need love and attention, tailored to each of them individually. Naturally, I am just the person for the job! Lastly, I thought I would include a fun fact! The kitten in the picture is one I rescued from inside the wall of my house. She was stuck, but fortunately I could get her out! I would go to the same lengths for any cat or furry friend.
Katie- Cat Sitter
I am a singer-songwriter, a part-time recreational therapist, and a cat lady. I have three cats of my own at home, and cannot remember a time in my when I did not have a cat. Caring for cats is second nature to me.
What do you believe makes a great cat sitter?
Someone who understands cats is attentive and nurturing. Also someone with good communication skills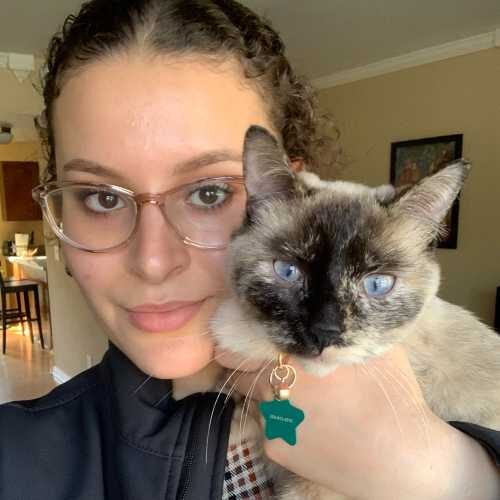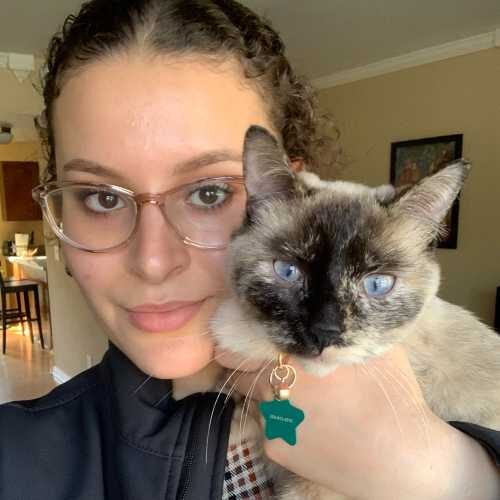 Isabelle - Cat Sitter
My name is Isabelle and I have had cats all my life. I have plenty of experience watching my own cats as well as others! I've always loved how every cat has its own personality and quirks.
I have always loved cats, maybe because I grew up in a home in which we always had cats.  We had two very vocal Siamese cats and I assumed all cats were so talkative.  When I grew up and got my own place, it just didn't feel like home unless I had a cat.  I watched my favorite cat of all times Fluffy go from a little orange kitten to a very mature cat of fifteen years. I experienced firsthand the health challenges that older cats sometimes have to deal with.
When I see a cat my heart always flutters and I immediately feel happier. I am very proud to work for Music City Cat, which gives all cats the special attention and star treatment they deserve. 
Bobo - Cat Sitter
Hi, I have two wonderful furbabies at home - Gracie & Archie. I volunteer at Metro Animal Care and Control and have a little online shop for pets and pet parents that donates back to rescues so I basically surround myself with all things animals! I hope to eventually have my own rescue in the future and dedicate my life to helping rescue as many animals as I can.
I absolutely adore all cats and will diligently and reliably take care of yours. The quote "working hard to provide the best life for my cat" describes me 100%!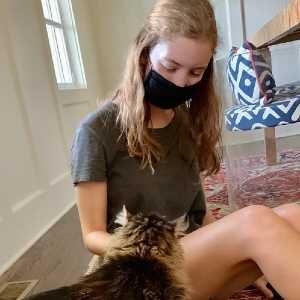 Anna - Cat Sitter
I am a Sociology major at Belmont University. In addition to having owned cats my entire life, I have also done lots of cat-sitting for the same families. I am extremely comfortable with different types of cats and their needs. As a cat lover, I enjoy cuddling with cats and playing with them.
What do you believe makes a great cat sitter?
I believe a great cat sitter is someone who understands cats and their behaviors/mannerisms. Not all cats are the same. For example, some cats are more outgoing, while others are extremely shy. Therefore, a cat sitter needs to be able to specify his or her approach to each individual cat.
Jessica - Cat Sitter
Hi! I'm Jessica, a former Adoption Counselor and Shift Supervisor at Mewsic Kitty Cafe, Tennessee's first cat cafe.I absolutely love all cats! I have one cat of my own named Valentina, a spunky 4 year old tortoiseshell who I raised from 3 weeks old. I have met and cared for hundreds of rescue cats, feeding and watering them, cleaning up after them and administering medical care when required (pills, flea medicine, ear drops, eye ointments and drops, and oral liquids). I understand when a cat is scared or shy and how to help them to feel comfortable. I quickly figure out a cat's play style and unique quirks upon meeting them in order to give them the best human contact experience possible! Cats are complex companions, and through my years of experience, I have accumulated expertise in feline-specific care
What do you believe makes a great cat sitter?
A great cat sitter is attentive to the unique needs of the cat they're caring for above all else. How is the cat feeling? What is his/her body language speaking? What is known about this cat's personality, and what might not be so obvious? How can I, as the pet sitter, help the cat feel comfortable, even if they've never met me before? Important questions like these are essential to understanding what a cat needs and how to be the best stand-in for their owner as possible.


Rachel - Pet Sitter
My name is Rachel, and I have two passions in life: the theatre and animals! I am an actor and teaching artist, and I love creating and working with children. As I pursued theatre, I discovered a career in caring for animals along the way! It fit like a glove! I now have five years of experience in loving and caring for cats, and I even decided to go vegan because of it! I have two adorable cats of my own, Link and Zelda! They are the loves of my life...besides my husband, I suppose, lol! If I enter a room, and there is a cat...you know I'm going to cuddle it! I am honored to love on your fur baby!
What do you believe makes a great cat sitter as far as working with the company?
I believe in going the extra mile for your clients. Giving white-glove service will make all the difference in caring for your cat! Send great photos, great messages,, make sure you sweep up around the litter box and keep their food and water area extra clean. This will show you truly care about the cat you are looking after and most importantly, it will put the client at ease while they are away!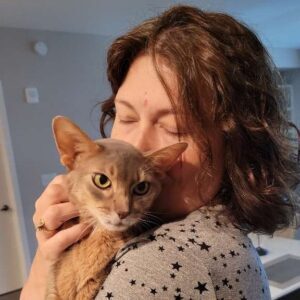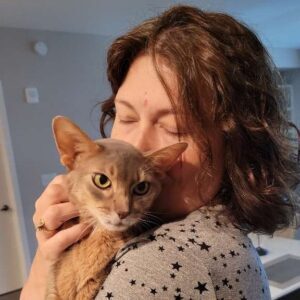 Brooke - Cat Sitter
They say you never forget your first love, and mine was Oreo. She picked me at a slumber party when I was 11. From teenage angst and heartbreak through adult adventures and major life milestones, I had the privilege of her love and sass for almost 21 years. I know how important our cats are to our lives. My cats are my family, and I will treat yours as my own. I have lived in 7 states in my adult life, and befriended many cats across the country. I have previously worked in the real estate and healthcare fields, and I am an avid supporter of the marching arts. My husband and I have been married for over 20 years, and we currently live in the Bellevue area with our two kitty-kids, George and Graycie.