Kevin Burt - Owner/Cat Sitter
I have had cats and dogs all my life.  I grew up in Tullahoma, went to college at UT, and have lived in Nashville since 2002.
I have 3 cats. All rescues.  I have a cat client who lives behind Ellington Park.  She loves cats and would leave food out for a feral cat.  The cat started to come by every night.  Spring came and she had a couple of kittens.  After they were weaned she brought them with her.  They were truly feral, but I adopted them anyway.  It took a while and lots of patients, but they adapted.  They are 4 years old now and couldn't be happier!
I recently adopted a semi-feral kitten from the Cat Shoppe.  He was nine months old.  His parents were probably domesticated cats.  He had been hanging out around the restaurants in Hillsboro Village until he was brought to the Cat Shoppe.  I instantly fell for him.  He was very shy and not very trusting at first, but he quickly warmed up to us.  His name is Belcourt and doing great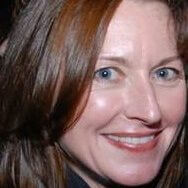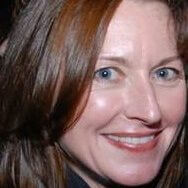 Dawn Juel - Manager/Cat Sitter
Hi, I'm originally from rural South Jersey, I grew up on a ten-acre farm where I spent most of my free time raising, training and caring for a virtual "Noah's Ark" of pets, many rescued by my mother, who helped instill in me a love of animals since I can remember.  They included horses, ponies, rabbits, guinea pigs, geese, goats, turtles, parrots, dogs and yes of course… CATS!
During my first year of college, Tommy, alone kitten showed up at my front door and he lived to be 22 years old and was loved every single day.
Over the years I've adopted and rescued several cats and dogs and learned that in most cases, they find us when we aren't even looking, and bring unexpected joy into our lives.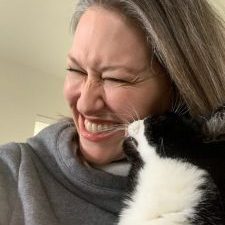 Jenni - Cat Sitter, Marketing Mgr
As the reigning Cat Lady of Salemtown, I take my position seriously. My house is home to cats Dave, Walter, Lily and Jack - and one little dog, too (Katie). All were lovingly adopted from Nashville Cat Rescue, The Cat Shoppe, and Happy Tales Humane.
I've had exciting careers in the music industry and digital marketing, but cats are my first love. I'd be honored to take care of your fur babies while you are away from home.
Julie - Cat Sitter
Hi.  I'm Julie and I am a proud cat lady.
I have always loved cats, maybe because I grew up in a home in which we always had cats.  We had two very vocal siamese cats and I assumed all cats were so talkative.  When I grew up and got my own place, it just didn't feel like home unless I had a cat.  I watched my favorite cat of all times Fluffy go from a little orange kitten to a very mature cat of fifteen years. I experienced first hand the health challenges that older cats sometimes have to deal with.
When I see a cat my heart always flutters and I immediately feel happier. I am very proud to work for Music City Cat, which gives all cats the special attention and star treatment they deserve. 
Christina - Cat Sitter
Hello! My name is Christina, and I have lived with and loved cats all my life. One of my fondest memories from childhood is of my father bringing home a kitten for my sister and me; and after the tiny tabby tired of playing, she curled up on my lap to sleep. She grew to love sleeping on my bed under my blankets and, when I got older, loved sprawling all over my homework! I've had lazy cats and energetic ones, and have seen one very special personality live until he was 19.
I know just what it's like to worry that my pets are happy when I travel. You need a trustworthy, reliable caregiver committed to giving your furry felines everything they need. Take comfort in knowing that they will be given not just food, water, and clean litter, but also care and attention. I also have experience administering insulin shots to a diabetic cat. Your detailed instructions are my priority in helping your cats to maintain their happy and healthy routine!
Ashley - Cat Sitter
Hello!  I have been a feline fanatic since day one and was lucky to have a childhood full of caring for several pets, including cats, dogs, fish, and hamsters. I am honored to be the current fur-mama of two amazing rescue cats, Arwen & Tiger Lilly! I have over 15 years of pet-sitting experience, whether helping friends, family, or neighbors, and I can say without a doubt that pet-sitting is one of the best jobs around! There is nothing more fulfilling than caring for life, whether plant, human, or animal.
What do you believe makes a great cat sitter?
Cat sitters need to be patient, intuitive and understanding people. Cats come in all shapes, sizes, personalities, and ages, and it is important to treat each cat as an individual! Cats have preferences on how they are approached, spoken to, played with, etc., so it is key to be patient, willing, and creative in finding ways to establish a bond with each individual!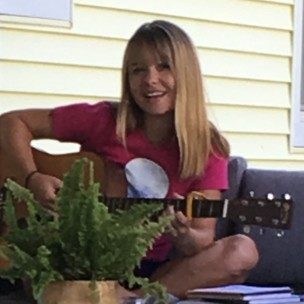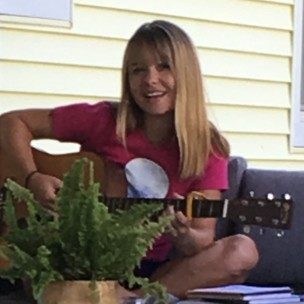 Katie- Cat Sitter
I am a singer-songwriter, a part-time recreational therapist, and a cat lady. I have three cats of my own at home, and cannot remember a time in my when I did not have a cat. Caring for cats is second nature to me.
What do you believe makes a great cat sitter?
Someone who understands cats is attentive and nurturing. Also someone with good communication skills



Rachel - Pet Sitter
My name is Rachel, and I have two passions in life: the theatre and animals! I am an actor and teaching artist, and I love creating and working with children. As I pursued theatre, I discovered a career in caring for animals along the way! It fit like a glove! I now have five years of experience in loving and caring for cats, and I even decided to go vegan because of it! I have two adorable cats of my own, Link and Zelda! They are the loves of my life...besides my husband, I suppose, lol! If I enter a room, and there is a cat...you know I'm going to cuddle it! I am honored to love on your fur baby!
What do you believe makes a great cat sitter as far as working with the company?
I believe in going the extra mile for your clients. Giving white-glove service will make all the difference in caring for your cat! Send great photos, great messages,, make sure you sweep up around the litter box and keep their food and water area extra clean. This will show you truly care about the cat you are looking after and most importantly, it will put the client at ease while they are away!
Caroline - Cat Sitter
Hi! My name is Caroline. I am currently a veterinary assistant and have been for the past 3.5 years. I have experience caring for cats that are: chronically ill (diabetic, kidney disease or hyperthyroidism, blind/deaf, neurological diseases, handicapped, etc.), geriatric, newborn kittens and new parents, and happy and healthy kitties. I also have the ability to administer medications as needed. I have extensive experience with anxious, frightful, or aggressive cats, and have been trained in fear-free tactics to care for them. I have loved cats all my life, as I grew up with seven of them! I currently have two cats, Rogue and Corvo, who are the loves of my life. I would be honored to be your fur-baby sitter and to have the opportunity to play with, snuggle, and love your kitty!
What do you believe makes a great cat sitter as far as working with the company?
A person who would love a pet unconditionally. A person who would do anything to make a pet trust them. A person who would love a pet at their best and worst. A person who would spend their last dollar if it meant their pet would be happy. A great cat sitter is one that has the aforementioned qualities and is happy to be responsible for the pet's health and safety. An *excellent* cat sitter is one that remains present in a cat's life, not by obligation or monetary gain, but by choice.
Amy - Cat Sitter
I have been known as the crazy cat lady or cat whisperer since I could walk. I grew up with several cats in my home and have continued to raise my own cats my entire life. I know how important it is when going out of town or working long hours and worrying about your cats at home. I currently have two Himalayan/Persian cats and I only trust a handful of people to watch them when I am away. One of my cats is 17 years old, almost 18. She is in great health for her age and has been extremely well taken care of. Every time we bring her to the vet they cannot believe how old she is! My other cat is about to turn one. He has been a great reminder to me of how much energy they have when they are kittens! 
As a social worker specializing in mental health and substance use disorders, I can appreciate how important pets can be and how the companionship can be extremely comforting and beneficial. I hope to be able to care for your cat the same way I care for mine. I am extremely focused on details and I have experience working with cats with all different personalities.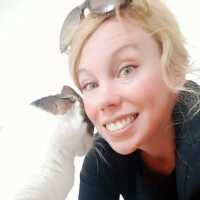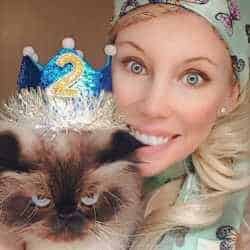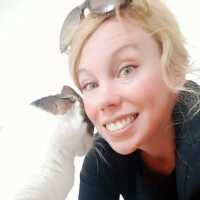 Barbi M
Mark Twain once said, "When a man loves cats, I am his friend and comrade, without further introduction." I feel the same way! Being a cat owner and a lover of all things music and feline, I will be so happy to meet another cat owner like you and give your cat all the love it needs while you are away. I'm a singer, instrumentalist, and artist who has always had a cat in my family since I was a baby and now I have a beautiful rescue cat of my own who is loved on 24/7 by me! I have a lifetime of experience intuitively reading what cats need, as well as specific experience with longhair breeds like Maine Coons, Persians, and Ragdolls, as well as special needs kitties, and I will treat your baby as well as my own when I come to visit!
I believe a great cat sitter has to, first and foremost, not just love cats, but understand them, speak their language, observe their protocols, respect their territory and space, and interact with them as much as they want to. To have the trust of another cat owner is a huge responsibility - I wouldn't just trust my own cat with anyone, so I would do everything I could to cultivate that owner's (and cat's) trust and then be honored to receive it. I'd want the same for anyone looking after my baby!